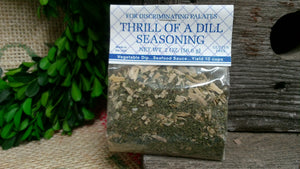 Ingredients: Dill, Parsley, Onion, and Spices.
Mix 2 tablespoons of Thrill of a Dill Seasoning with sour cream and mayonnaise and enjoy with raw vegetables.  We also pair this dip with Kendrick Farms Pickled Carrots!  
Add a peeled seeded finely chopped cucumber to make a great fish sauce.  Or, add one tablespoon of Thrill of a Dill to a can of tomato soup prepared with milk and serve at your next dinner party!