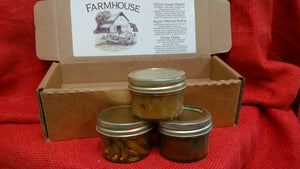 Gift pack contains 3 four ounce jars of dilled green beans, apple walnut butter, and chow chow.
Dilled Green Beans - Ingredients: green beans, vinegar, water, salt, jalapeno peppers, garlic, & dill.
Apple Walnut Butter - Ingredients: Apples, walnuts, citric acid, vanilla extract, & cinnamon.
Chow Chow - Ingredients: Cabbage, onions, vinegar, pure can sugar, carrots, peppers, salt, mustard seed, celery seed, & spices.